This year's wet winter promises a wealth of wildflower blooms on California's North Coast this spring. Flower fanatics and novice naturalists can find a variety of colorful wildflowers popping up for prime viewing this April and May. What follows is a quick guide to North Coast wildflowers and where to find them on the North Coast.
Del Norte County
With over 4,000 species of identified wildflowers, some call Del Norte County the wildflower capital of the world. 24 species of wild Orchid reside here. A great viewing area is where the South fork of the Smith River meets Stoney Creek. Nestled here are Western Azalea, California Lady's Slipper, Oregon Anemone, and Pacific Rhododendrons. There is also a magnificent display of Rhododendrons, Crimson Clover, and Lupine in Del Norte Coast Redwoods State Park.
Humboldt County
A Great place to start is the variety of Azaleas blooming in Azalea State Reserve. Humboldt Lilies, with their upward curving petals and downward facing pistils and stamen, line the Avenue of Giants in Humboldt Redwoods State Park. Purple-white-yellow petaled Orchids play hide and seek among the Sequoia at Prairie Creek Redwoods State Park. Trillium, Lupine and Rhododendrons have a happy home here as well.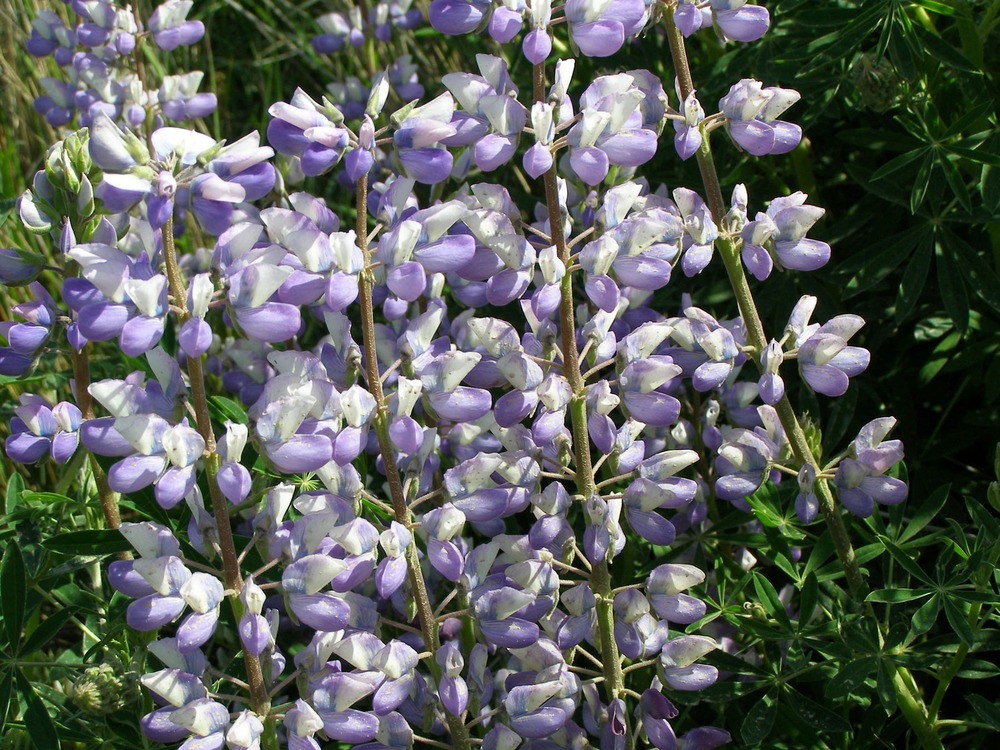 In the heart of the Six Rivers National Forest is one of the top NorCal sites for early spring wildflower blooms. Along the trail called Hell's Half Acre the red Indian Paintbrush and Indian Warrior mingle with the pale yellow Cream Cup and the blue veined – purple tipped petals of Baby Blue Eyes. Lying low is the Chickweed Monkeyflower, keep an eye out for this aptly named flower with the heart shaped mark on its lower petal.
Lake County
Around Clear Lake, orange-yellow California Poppies bloom alongside violet Arroyo Lupine, Hill Lotus, and the surprisingly small, brilliant yellow Wooly Sunflower. The Redbud Creek Trail in the Cache Creek Natural Area is another place to view wonderful wildflowers. California Fawn Lily and Blue Larkspur dot the landscape, as do White Baby Blue Eyes and Dutchman's Pipe Vine.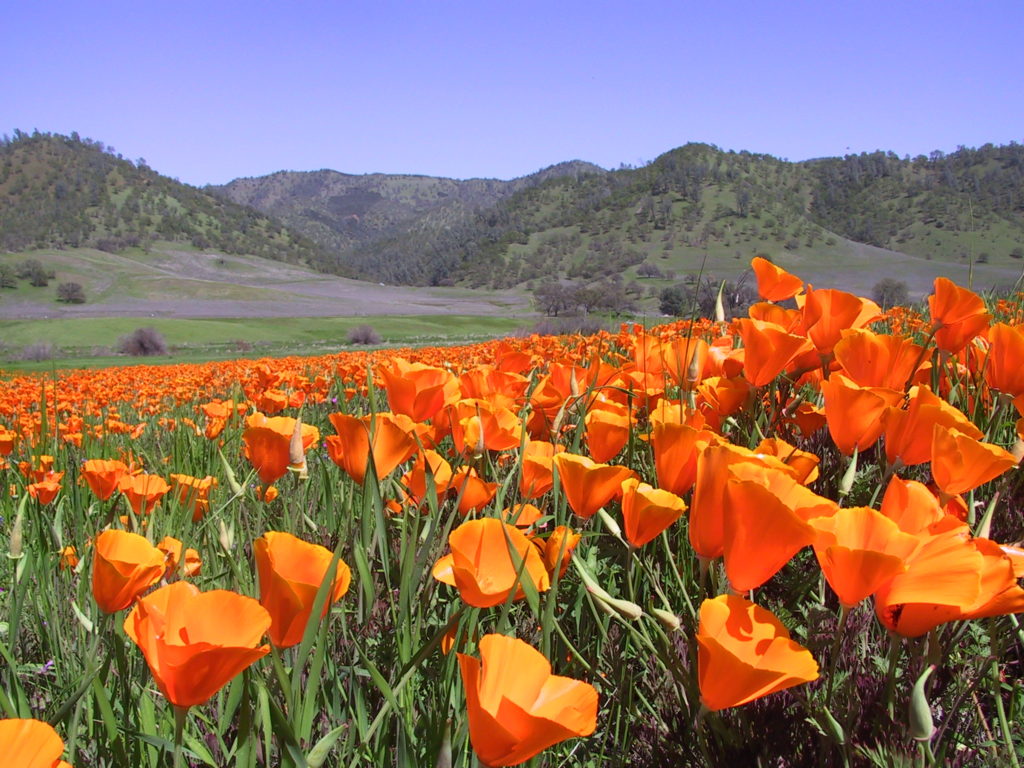 Most of the meadows, hillsides, and valleys in Lake County are awash with color in the spring as well. The neon-pink of the Pink Spineflower mixes with both white and yellow Lupine, and the Prince-like purple of the Small Clarika.
One of the most unique ways to view wildflowers in the North Coast region is at Eleven Roses Ranch. Here you can take in the wildflower blooms from a horse drawn wagon 1880s style. These tours conclude with a historically accurate cookout with Dutch Oven Cobbler and a sampling of local Lake County Wines.
Mendocino County
A new wildflower discovery lies in both the Red Mountain area and South Fork Eel River Wilderness area; the Wailaki Lomatium, named for the indigenous tribe that once called those areas home. The Russian Gulch State Park has Mendocino Paintbrush, Calypso and Leopard Orchid, and Rhododendrons coloring its hiking trails. At the Navarro Point Preserve, high above the plunging surf of the Pacific ocean, Daisy, Lupine, and Indian Paintbrush thrive.
Montgomery Woods plays host to Wake Robins, Iris, and Trillium nestled in the shade of the large trees. In Low Gap Park, hikes on both the City View and Canyon Creek trails reveal Mission Bells, Larkspur, Monkey Flower and Ithuriel's Spear.  Lake Mendocino is a popular wildflower viewing spot as well. The trails surrounding the lake are home to Firecracker and Mariposa Lilies, Diogenes Lanterns and Mule ears.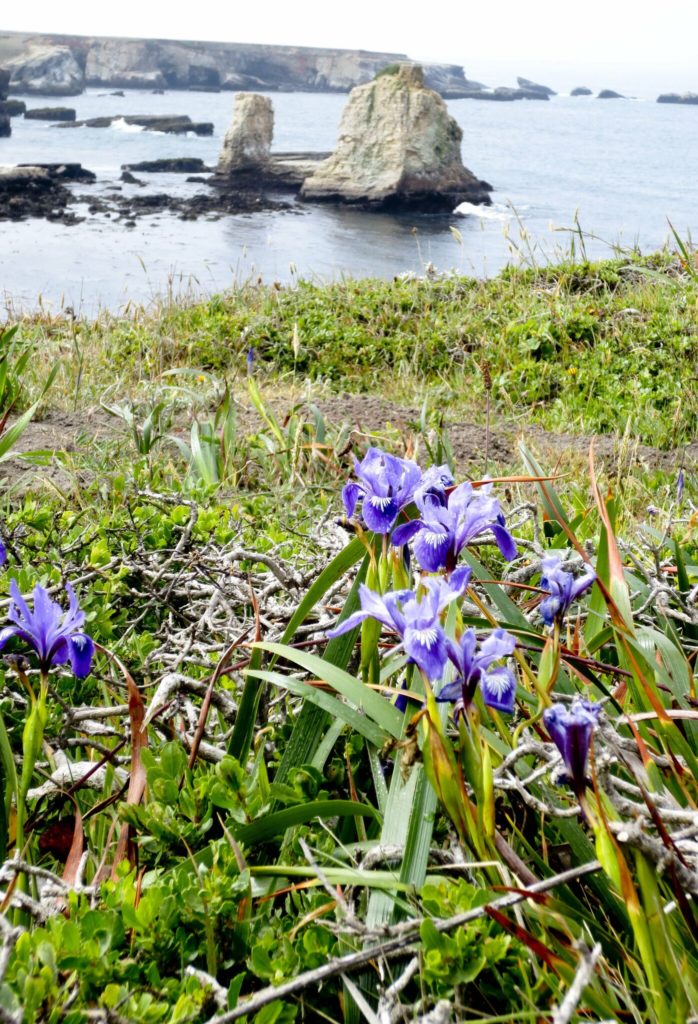 The beauty of blooming spring wildflowers are all around California's North Coast. One just needs to take the time to stop and enjoy the dazzling display nature is putting on right now.