From the Golden Gate Bridge to Fort Bragg
San Francisco is an iconic world class city and no stop in NorCal is complete without some exploring of the many attractions there, including riding the Cable Cars, the Embarcadero, Golden Gate Park, innovative restaurants and numerous museums.
But after a few days in the big city, it is time to venture north, to the rural counterpart of the urban scene, to our authentic North Coast region, comprising the counties of Del Norte, Humboldt, Lake and Mendocino.
This itinerary focuses on a few of the many attractions you'll find from San Francisco to Fort Bragg, as well as some of the most amazing hotels that are sure to make your visit unforgettable. It would be fantastic if you could stay and visit everything mentioned, but this itinerary is all about options. Skip and jump around. Discover the virtually undiscovered.
From San Francisco, take the Golden Gate Bridge north. There is a great photo op at the northern end of the bridge at the rest area, so stop and take in the view of the Bay. It's the perfect sendoff for departing the city and heading to the North Coast.
Then venture 50 miles on US 101 North to Santa Rosa. Santa Rosa is home to the Charles M. Shultz museum … a true Snoope and Peanuts fan's treasure.
Charles M. Schulz Museum
2301 Hardies Lane
Santa Rosa, California 95403
(707) 579-4452

When departing Santa Rosa take Mark Springs Road, which is exit 494 off of Hwy 101. Follow the westerly 33-mile route of River Rd and CA-116W to the Pacific Coast Highway (CA-1) and turn North to Jenner.
Or take a slight detour to Russian River Brewing Company's new facility in Windsor, California.
For Pliney the Elder, a pub food menu, and guided or self-guided tour, this is a great place for micro-brew lovers to make a stop.
Russian River Brewing Company
700 Mitchell Lane
Windsor, CA
(707) 545-BEER
From the brewery it is 29 miles west to Jenner. From Mitchell Lane turn left onto Windsor Road and another left onto Slusser road. This will take you to back to River Road and CA-116W, which will lead to Jenner and the wild, gorgeous Pacific coast.
Highway 1 is a windy road and speed is not the object. Smell the ocean; stop for photos; enjoy the amazing views; take your time. Remember, you are on vacation.
Your next stop is Fort Ross, one of the main tourist attractions in this area. The Fort is a California State Historic Park showcasing a historic Russian-era fort compound that has been designated with National Historic Landmark status. Located 11 miles north of Jenner on California Highway One, Fort Ross is surrounded by sandy beaches, panoramic coves, and redwood forests, with breathtaking views of the Pacific Ocean.
California Highway One has consistently mild traffic but has intense winding curves in sections and therefore drive time, rather than mileage, can be helpful in planning.
From Fort Ross continue north on Highway 1 along the Pacific Ocean to Mendocino County, about 1 hour or 40 miles north. Soon you will reach one of the smallest incorporated cities in the state, Point Arena.
With a population of only 449 people, Point Arena offers comfortable lodging, restaurants serving a variety of cuisines, and plenty of things to see and do. Join a tour to the top of Point Arena Lighthouse, up 115 feet and 145 steps, known as the highest lighthouse on the West Coast which you can climb. You will be rewarded with 360 degrees of panoramic views of Mendocino's south coast and the filming locations of many popular Hollywood films such as Forever Young. Plus, if you need a place to stay, they also offer lodging!
Point Arena Lighthouse
45500 Lighthouse Road
Point Arena, CA 95468
(707) 882-2809
27 minutes (or 19 miles) north on Highway 1, you will reach the town of Elk, population 208. Elk was originally dubbed Greenwood and it is confusingly sometimes called by both names. Two years ago, a live Elk was found walking down the highway, the first sighting in almost 100 years.
By this point, you would have had a full day of sightseeing. It is time for some rest, relaxation and rejuvenation. The ever-romantic Elk Cove Inn & Spa is next on your agenda. Gently nestled on dramatic cliffs overlooking the ocean, it is a true Northern California gem. This one-of-a-kind bed and breakfast, with luxurious accommodations, great dining and a European-style day spa. It's ready to welcome you and provide a truly unforgettable North Coast experience.
Elk Cove Inn & Spa
6300 S. Highway One
Elk, CA 95432
(707) 877-3321
Next on your ever-increasing list of unique creative boutique Mendocino County hotels is the Heritage House Resort & Spa. Managing to soothe and inspire in the very same breath, each room merges the timeless aura of original architectural elements with a contemporary design aesthetic and every travel luxury imaginable. Nestled on 37 acres, with the best Pacific Ocean views anywhere, this charming resort features a full-service restaurant, spa and welcoming bar.
Heritage House Resort & Spa
5200 N. Highway 1
Little River, CA 95456
(707) 202-9000
Only a few miles further north is one of the other gems of the Mendocino coast. Tradition and warmth are pervasive at the Little River Inn. It has been in the same family for almost 80 years. Your first glimpse of their graceful gardens and classic Victorian architecture speaks volumes of the experience to come. The accommodations are elegant yet charming, luxurious but still cozy. Relax in front of a romantic fireplace or watch the sunset from your private deck.
Little River Inn
7901 North Highway One
Little River, CA 95456
1 (888) INN-LOVE
After a day on the golf course, tennis courts or hiking trails, enjoy dinner at their restaurant or throw back a few drinks at the famous Ole's Whale Watch Bar, where the great James Dean was once kicked out by Ole himself!
Only 5 minutes up the Pacific Coast Highway, The Village of Mendocino is ideal for those who enjoy a picturesque stroll with interesting things to do, including quaint boutiques and stunning art galleries featuring local artists showcasing their latest creations. Many visitors who stay in Mendocino Village, just park their car and walk to the beach, restaurants, B & Bs and shops.
Mendocino is surrounded by the Headlands State Park and is on the National Register of Historic Places due to the preservation of its Victorian architecture.
Only 9 miles north of Mendocino is the charming city of Fort Bragg, meaning you are on the last leg of this San Francisco to Fort Bragg journey. Fort Bragg is the largest town on the Mendocino Coast with a population of almost 7,000. Once known as a logging and fishing town, these industries have taken a backseat to tourist attractions such as the world- famous Skunk Train. National Geographic Traveler proclaimed the Skunk Train one of the top 10 family activities in California. It's a true treat for kids and adults alike. With the occasional whistles as the train chugs through tunnels, over bridges and past open meadows, the train follows the coastal Redwood Route as it has since 1885. It is the towering Redwood trees, a glimpse of a deer drinking from the Noyo River and the notion that you have left the rest of the world behind, which draws people from all over the world. It transports you back in time, while also offering a unique glimpse of the majestic North Coast landscape.
Skunk Train
100 West Laurel Street
Fort Bragg, CA 95437
(707) 964-6371
There is a lot more to Fort Bragg than the Skunk Train however. The famous Glass Beach is a feature on the newly created California Coastal Trail. This paved, ADA accessible trail, runs from the south end of the city all the way to MacKerricher State Park where you can follow a boardwalk to see the sea lions lounging on the off shore rocks.
To get to Glass Beach and the Coastal Trail you can either turn at Denny's (Elm St.) or Taco Bell (Cypress St.), and follow the road to the parking lots.
Your best bet to explore Fort Bragg and the many State Parks within a few miles, is to spend a night or two. The Beachcomber Motel is connected to the trail by a historic trestle walking bridge across Pudding Creek. The Beachcomber, and its two sister properties nearby, offer affordable lodging and memorable hospitality. Enjoy epic vistas of California's North Coast from your hotel room's private deck. Wind down to the soothing rhythmic roar of the Pacific Ocean. Their pet-friendly beachfront accommodations offer the perfect mix of luxury, adventure, and surf and sand in Fort Bragg.
Beachcomber Motel & Spa
1111 North Main Street
Fort Bragg, CA 95437
(800) 400-7873
Your coastal adventure in Mendocino County doesn't have to end quite yet. Another option is to experience adventure lodging at its best. A breathtaking oceanfront getaway on a 2000-acre private preserve and winner of the Andrew Harper Grand Award 2018, The Inn at Newport Ranch is 20 minutes (11mi) north of Fort Bragg on Highway 1. It boasts ocean views, sea stacks, sandy beaches, redwood forests, 20 miles of private trails and architectural treats galore. The Inn at Newport Ranch is part of a coastal cattle ranch on the site of the former town of Newport and its lumber chute. With over a mile of oceanfront, three miles of ridge tops, panoramic coastal views this is the kind of inn you will be talking about for years.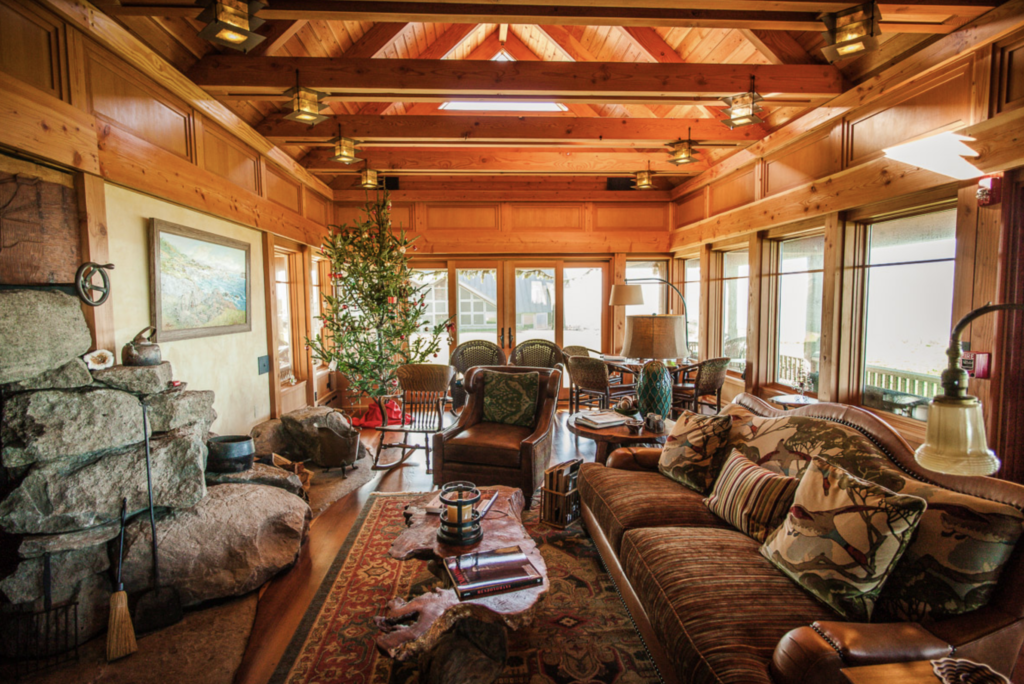 The Inn at Newport Ranch
31502 North Highway 1
Fort Bragg, CA 95437
(707) 962-4818
That wraps up some great options for a nice trip from San Francisco to Fort Bragg. Enjoy!